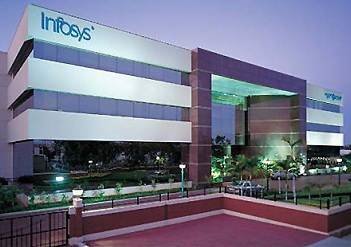 In this Infosys supplier profile you will find a special nine page report from Computer Weekly analysing the challenges facing Infosys, along with figures about its financial performance, the services it offers, its place in the market and what the future may hold for the supplier.
You will also find up to date news and tips on Infosys in addition to further Infosys resources and whitepapers from TechTarget's research library.
Overview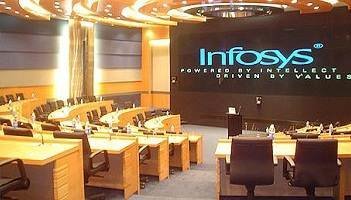 Infosys Limited is a global technology services company, employing about 150,000 people. Infosys – India's second biggest technology company, ahead of Cognizant but behind Tata Consultancy Services (TCS) – provides business consulting, technology, engineering and outsourcing services to customers in 30 countries.
Services include business and technology consulting, custom application development, infrastructure management services, maintenance and production support, product engineering, systems integration, and cloud-based services.
Its business unit, Infosys Business Process Outsourcing (BPO), provides business process management services, such as off-site customer relationship management, finance and accounting, and administration and sales order processing.
Like many Indian IT suppliers, Infosys makes most of its money from managing the back-office computer systems of multinational companies in the US and Europe. Growth in these markets has slowed as customers, particularly in financial services, have cut or delayed spending on technology in response to tough economic conditions.
Infosys, which is headquartered in Bangalore, wants to maintain its "bread and butter" outsourcing business while expanding its consultancy services, entering new markets and selling more of its own software, such as its banking software Finacle.
The strategy will pit Infosys against companies such as IBM and Accenture, which sell specialised consultancy services based on different industries. Infosys' new strategy is based on seven themes: digital consumers; emerging economies; health care economy; new commerce; pervasive computing; smarter organisations; sustainable tomorrow.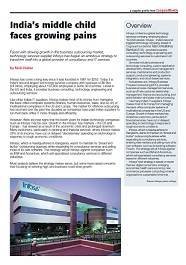 This special six-page report from Computer Weekly analyses the challenges facing Infosys, its financial performance, the services it offers, its place in the IT market and its future strategy. Packed with graphs and diagrams, the report is essential reading for any organisation already working with, or thinking of working with, Infosys.
See all research from ComputerWeekly.com
Key Facts about Infosys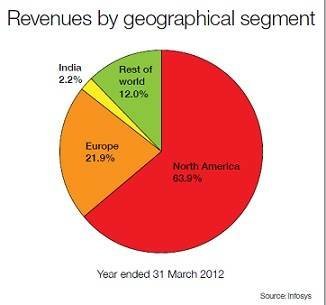 Established in 1981 for $250, Infosys was one of the trailblazers of India's offshore outsourcing industry.
In 1993, it went public and in 1995 opened an office in the UK – the company's first in Europe. In 1999, Infosys became the first Indian company to list on the Nasdaq, the US stock exchange.
Infosys grew rapidly as large Western companies began to outsource their IT and business processes to Indian suppliers in an effort to cut costs. Offshore outsourcing has been controversial: for example, unions have raised concerns about UK job losses.
However, offshore outsourcing is now widespread among large companies. In 2004, Infosys' revenue was about $1bn. By 2007 it was $3bn. Infosys' 2012 revenue was $6.9bn. Its market capitalisation is about $32bn.
• Revenues: $6.9bn for year to 31 March 2012, up about 16% from the previous year
• Market capitalisation: about $32bn
•Employees: 150,000
•Specialisms: business consulting, technology, engineering and outsourcing services
London
14th and 15th Floor
10 Upper Bank Street
Canary Wharf
London E14 5NP
More on Infosys from the TechTarget network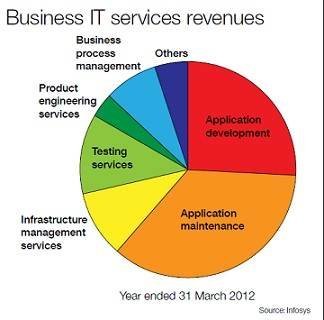 • Indian IT services firm Infosys opens UK apprenticeship scheme
• Infosys Technologies (Infosys Limited)
• Infosys sees double digit growth for the year
• Infosys kicks off its cloud drive for the year
with Microsoft partnership
More on Infosys from ComputerWeekly.com
See all TechTarget research and whitepapers at BitPipe.com
Infosys products and product families
Management Consulting Services
• Strategic Insights
• Enterprise Strategy, Product Strategies and Customer Strategies
• Process Transformation
• Pioneering Points of View, Process
Design and Transformation
• Organisational Transformation
• Adoption and Accountability, Learning and Shared Services
• Information Transformation
• Business Intelligence, Enterprise
Performance Management and IT Strategy
• Digital Transformation
• Digital Marketing, Multi-Channel,Commerce and Mobility
Business Application Services
Supports software including Oracle, SAP, IBM, TIBCO, Microsoft Dynamics and Salesforce.com.
. Business IT Services
• Application services
• Independent validation and testing services
• Infrastructure management services
Engineering Services
Research and development and engineering services for industry sectors ranging from aerospace and software to retail and life sciences.
Business Process Outsourcing (BPO) services
Infosys runs business tasks for clients. BPO services include finance and accounting, customer service and sales.
Cloud
Helps customers to run web-based IT applications and infrastructure.
Mobility
Supports mobile technology. Also provides consulting and research and development.
Sustainability
Advises customers on how to boost efficiency and cut energy consumption and CO2 emissions across IT/ buildings/ datacentres/facilities/manufacturing and supply chains.
More about Infosys products and services
Key executives at Infosys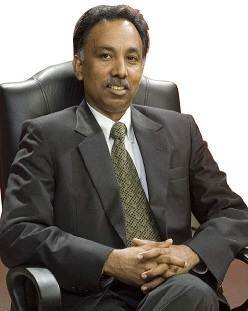 • Narayana NR Murthy, chairman emeritus
Founder of Infosys. Served as CEO from 1981-2002 and as chairman and chief executive from 1981-2011.
• S Gopalakrishnan, executive co-chairman and co-founder
Gopalakrishnan has performed various of senior management roles at Infosys, including vice president for technical operations of KSA/Infosys, a joint venture between Infosys and US-based KSA located in Atlanta; deputy managing director of Infosys; and chief operating officer. He took over as executive co-chairman in August 2011.
• SD Shibulal, chief executive officer and managing director
Shibulal was chief operating officer between 22 June 2007 and 20 August 2011. Before that he held various senior management positions, including head of worldwide sales and customer delivery, worldwide head of customer delivery, and head of Infosys' manufacturing and distribution and internet consulting practice.
• Chandrashekar Kakal, senior vice president, global head of business IT services/member of executive council
Responsible for Infosys' application development, maintenance, testing, and infrastructure management services worldwide, Kakal joined Infosys in 1999 as one of the leaders of the company's Enterprise Solutions service unit. In 2000, he took on the additional responsibility of establishing the Hyderabad Development Centre. In 2004, he became global head of Enterprise Solutions.
• V Balakrishnan, member of the board, chief financial officer
Balakrishnan's responsibilities include corporate finance, international taxation, risk management and mergers and acquisitions for the company. He was appointed CFO in April 2006. Prior to that he was company secretary and senior vice president – finance. Balakrishnan joined Infosys in 1991.
Key UK customers
• Aimia/Nectar
• BT
• GlaxoSmithKline
• Home Retail Group
• Ricoh
• United Utilities
Infosys videos from the TechTarget video library
Infosys revenue by service and by industry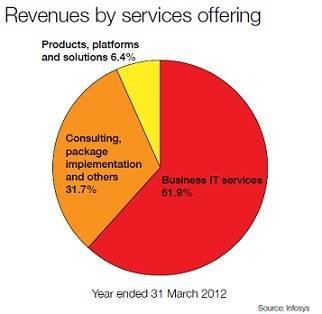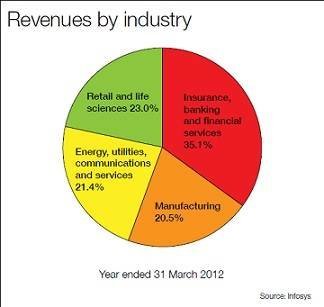 Latest announcements from Infosys