Download this free guide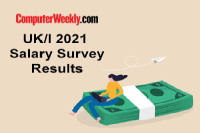 2021 UKI Salary Survey - Salary Infographic
We take a look at our 2021 Salary Survey results from over 300 respondents who work in the UKI IT sector. We will be breaking down which job functions get paid what, what areas of IT companies will be investing in in 2021, the current diversity landscape residing in the UK tech sector and how the pandemic has effected IT staff.
In Depth
We look at robotic process automation at a coding level and an organisational level, and see how artificial intelligence fits

The advantages of cloud archiving are ease of use and being well-suited to potential latency issues, but IT teams need to be aware of costs and issues around moving data from and between clouds

In this buyer's guide, we look at the key considerations when choosing human resource management software to enable workforce resilience, flexibility and agility in the post-pandemic world
View All In Depth Articles
Blogs
After our extensive enterprise containerisation series and subsequent feature entitled 'Preparing for enterprise class containerisation', the Computer Weekly Open Source Insider team sat down ... Continue Reading
Opinion
From dealing with SolarWinds fallout to ransomware attacks, it's been a busy few weeks for the Secret IR Insider, but they've picked up some new tricks along the way

The legal settlement with subpostmaster victims of the Horizon scandal that the government and the Post Office say is "full and final" is anything but

What are the security issues and challenges presented by vaccine passports, and how should they be designed and used with ethics and privacy in mind?
View All Opinion Articles