Download this free guide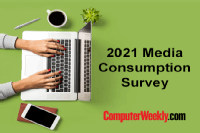 2021 Media Consumption Survey
Information is a powerful tool for IT decision-makers, and we understand that our readers enjoy consuming media in many different ways. With this in mind, we are trying to gain a better understanding of what content types our readership values the most. Please take 5 minutes to complete our media consumption survey, and help us shape our future content around your needs. As a thank you for participating, you will be entered into our draw to win a £250 Amazon gift card.
In Depth
The reality of a paperless office remains some way off, so printers are here to stay for a while. But their increasingly connected status means securing them should be a priority

The growth in e-commerce during the pandemic is well documented, but the fragmented retail environment has also helped video commerce and livestreaming rise to prominence

The European Commission's proposal for artificial intelligence regulation focuses on creating a risk-based, market-led approach replete with self-assessments, transparency procedures and technical standards, but critics warn it falls short of being ...
View All In Depth Articles
Blogs
Not put off by the complex circumlocutions and (many people with an understanding of economics and common sense would argue) calamitous complications and consequences of Brexit, the European ... Continue Reading
Opinion
The Hippocratic Oath is perhaps the most widely known of Greek medical texts – and such an oath is needed in data science

With an all-party parliamentary group calling for evidence on digital skills, there are three key areas that policymakers should address  

Though rarely discussed in a cyber context, the prevalence of connected printers and MFPs poses security risks both technological and physical. What does a print security strategy need to take into account?
View All Opinion Articles