Download this free guide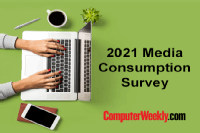 2021 Media Consumption Survey
Information is a powerful tool for IT decision-makers, and we understand that our readers enjoy consuming media in many different ways. With this in mind, we are trying to gain a better understanding of what content types our readership values the most. Please take 5 minutes to complete our media consumption survey, and help us shape our future content around your needs. As a thank you for participating, you will be entered into our draw to win a £250 Airbnb gift card.
In Depth
As the economy opens up, organisations are rethinking the idea of office-based work – and a more flexible approach is on the cards

As cyber security risks grow daily, businesses must educate staff about these through cyber awareness training. But how can they ensure this is taken seriously by employees?

The rise of cyber crime and the escalating threat vectors facing the UK have led GCHQ to invest in automated threat detection and response systems to meet this challenge, as well as liaising with the private sector for the first time
View All In Depth Articles
Blogs
Software runs on data and data is often regarded as the new oil. So it makes sense to put data as close to where it is being processed as possible, in order to reduce latency for performance-hungry ... Continue Reading
Opinion
UK councils have a huge opportunity to improve services through the use of smart city technologies - but they must avoid the cyber security risks, says the government's digital minister

The draft digital identity framework published by the UK government highlights the importance of learning from the private sector and existing standards to accelerate deployment and citizen adoption

What are the security issues challenges presented by vaccine passports, and how should they be designed and used with ethics and privacy in mind?
View All Opinion Articles