Download this free guide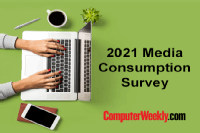 2021 Media Consumption Survey
Information is a powerful tool for IT decision-makers, and we understand that our readers enjoy consuming media in many different ways. With this in mind, we are trying to gain a better understanding of what content types our readership values the most. Please take 5 minutes to complete our media consumption survey, and help us shape our future content around your needs. As a thank you for participating, you will be entered into our draw to win a £250 Airbnb gift card.
In Depth
The advantages of cloud archiving are ease of use and being well-suited to potential latency issues, but IT teams need to be aware of costs and issues around moving data from and between clouds

In this buyer's guide, we look at the key considerations when choosing human resource management software to enable workforce resilience, flexibility and agility in the post-pandemic world

Consortium of universities and other institutions has harnessed datasets, analytics and cloud computing to sequence Sars-Cov-2, the virus that causes Covid-19, in a blisteringly short time
View All In Depth Articles
Blogs
The Computer Weekly Developer Network newsdesk is used to seeing newsfeed stories with dateline and locations such as London, San Francisco, San Jose and New York… we're even used to seeing ... Continue Reading
Opinion
From dealing with SolarWinds fallout to ransomware attacks, it's been a busy few weeks for the Secret IR Insider, but they've picked up some new tricks along the way

The legal settlement with subpostmaster victims of the Horizon scandal that the government and the Post Office say is "full and final" is anything but

What are the security issues and challenges presented by vaccine passports, and how should they be designed and used with ethics and privacy in mind?
View All Opinion Articles