Download this free guide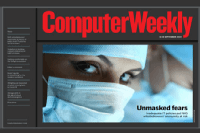 NHS whistleblowers at risk due to poor IT policies
In this week's Computer Weekly, our investigation into NHS practices shows how poor IT policies are putting whistleblowers at risk. Our buyer's guide examines the networking implications of the surge in remote working. And we assess how well the public cloud giants responded to the demands of the coronavirus pandemic Read the issue now.
In Depth
IT departments are on a cloud-native roadmap to become more agile, but they are constrained by the risks involved in migrating core systems and data

Gaurav Dhillon, co-founder of Informatica and founder CEO at SnapLogic, comes from a generation of Silicon Valley Indian immigrants who followed a scholarship route and have helped to shape the area's tech companies. Here he reflects on his career ...

The data lake is a fundamental concept of data management. But what type of storage do you need to build a data lake on and what are the pros and cons of on-premise vs the cloud?
View All In Depth Articles
Blogs
The ENIAC is 75 years old. This complex piece of kit from the 1940s was the world's first computer. It was commissioned by the US army to calculate missile trajectories. It was officially launched ... Continue Reading
Opinion
As a new organisation is formed to lead UK digital government, three former government digital leaders share the lessons they learned from the early days of the Government Digital Service

For all the talk about digitised healthcare, the sector is only where banking was in the 1990s. How can it catch up? Can the Covid-19 pandemic crisis be a catalyst?

Vaccine or immunity passports are an opportunity to advance the design of trustworthy digital systems, but much more work still needs to be done
View All Opinion Articles