Download this free guide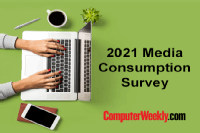 2021 Media Consumption Survey
Information is a powerful tool for IT decision-makers, and we understand that our readers enjoy consuming media in many different ways. With this in mind, we are trying to gain a better understanding of what content types our readership values the most. Please take 5 minutes to complete our media consumption survey, and help us shape our future content around your needs. As a thank you for participating, you will be entered into our draw to win a £250 Airbnb gift card.
In Depth
Computational storage is an emerging architecture category, in which compute is put near storage to address I/O bottlenecks resulting from large volumes of data

As the economy opens up, organisations are rethinking the idea of office-based work – and a more flexible approach is on the cards

As cyber security risks grow daily, businesses must educate staff about these through cyber awareness training. But how can they ensure this is taken seriously by employees?
View All In Depth Articles
Blogs
London-originated but Boston-headquartered cloud native application security company Snyk has acquired FossID, a software composition analysis tool that scans code for open source licenses and ... Continue Reading
Opinion
The government's digital bootcamps initiative could help begin to shift the way we think about the roles of technology professionals

While a pandemic-driven increase in cyber crime and an exacerbation of existing fraud trends were, to a large extent, to be expected, the LexisNexis Risk solutions UK cybercrime report 2020 still contained a few surprises

Reverend Richard Coles tells Computer Weekly why there needs to be a statutory public inquiry into the Post Office Horizon scandal
View All Opinion Articles