Download this free guide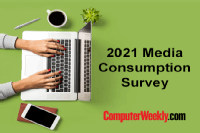 2021 Media Consumption Survey
Information is a powerful tool for IT decision-makers, and we understand that our readers enjoy consuming media in many different ways. With this in mind, we are trying to gain a better understanding of what content types our readership values the most. Please take 5 minutes to complete our media consumption survey, and help us shape our future content around your needs. As a thank you for participating, you will be entered into our draw to win a £250 Amazon gift card.
In Depth
Continuous real-time analytics, operating at sub-second speed, are finding real-world applicability across industry sectors, such as retail, transport and banking. Their value crux: can businesses act on the signals provided?

We look at the kinds of application programming interfaces (APIs) available to expose cloud storage to applications, from SME-targeted solutions to higher-end hooks

A physical tour of a datacentre has traditionally been a key marketing and selling tool for colocation operators, and the Covid-19 pandemic has forced many to provide virtual alternatives. But how do they compare?
View All In Depth Articles
Blogs
Grafana Labs specialises in what it calls 'open and composable' operational dashboards. That's dashboards for viewing virtualized compute stack metrics, logs and traces - not dashboards in any ... Continue Reading
Opinion
Proposals by European Commission to search for illegal material could mean the end of private messaging and emails

The Hippocratic Oath is perhaps the most widely known of Greek medical texts – and such an oath is needed in data science

With an all-party parliamentary group calling for evidence on digital skills, there are three key areas that policymakers should address  
View All Opinion Articles