Download this free guide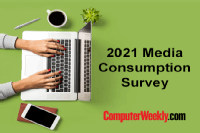 2021 Media Consumption Survey
Information is a powerful tool for IT decision-makers, and we understand that our readers enjoy consuming media in many different ways. With this in mind, we are trying to gain a better understanding of what content types our readership values the most. Please take 5 minutes to complete our media consumption survey, and help us shape our future content around your needs. As a thank you for participating, you will be entered into our draw to win a £250 Amazon gift card.
In Depth
A datacentre that fits in the palm of your hand? However, right now, DNA storage is an expensive chemical process that researchers are trying to make a practical proposal

Online fraud is a growing problem for retail, but are merchants doing enough to update systems and how should they change their actions to address it?

A mix of on-site and remote working has become a fact of life for many organisations. We look at five key things you should consider to ensure compliance and security
View All In Depth Articles
Blogs
Abbyy didn't let the summer slowdown 'silly season' dampen its news cycle too much, the 'digital intelligence company' announced an update for NeoML, its cross-platform open source machine learning ... Continue Reading
Opinion
With many offices still operating at limited capacity, a red teaming expert reveals how his job is getting easier, and why this is a problem

The 'Q' word isn't one that's really used in incident response, says the Secret IR Insider, largely because as soon as you use it, something happens

With Covid-19 restrictions easing, offices are welcoming back remote workers this summer, bringing with them their notebooks and mobiles, and creating an endpoint management headache for CISOs. What do security teams need to account for to protect ...
View All Opinion Articles