Storage performance
Buying wisely and tuning your storage infrastructure for the best possible storage performance is vital to ensure the business is adequately supported. Understanding storage performance starts when you begin to evaluate manufacturers' products and continues as you set up, configure and tune storage hardware to suit your workloads.

Download this free guide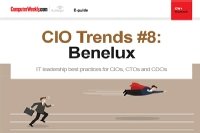 CIO Trends #8: Benelux
Check out how the Netherlands are taking the lead in cybersecurity; how Brussels is gearing up to be an insurtech hub and why the Dutch decided to share details of a Russian hacking of a major organisation with the rest of the world.