Storage performance
Buying wisely and tuning your storage infrastructure for the best possible storage performance is vital to ensure the business is adequately supported. Understanding storage performance starts when you begin to evaluate manufacturers' products and continues as you set up, configure and tune storage hardware to suit your workloads.

Download this free guide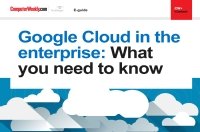 What you missed from Google Cloud Next '18
Download this e-guide for a round-up of everything that took place at this year's Google Cloud Next, including a run through of all the key announcements made at the show and what they mean for the enterprise.