Storage performance
Buying wisely and tuning your storage infrastructure for the best possible storage performance is vital to ensure the business is adequately supported. Understanding storage performance starts when you begin to evaluate manufacturers' products and continues as you set up, configure and tune storage hardware to suit your workloads.

Download this free guide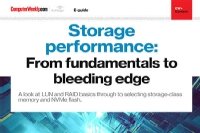 Flash storage and RAID: The essentials
We take a look at LUN provision and management, RAID and flash storage, plus tuning for analytics workloads and key emerging technologies that can give your organisation a competitive advantage in mission-critical operations, such as storage-class memory, NVMe flash and persistent memory.