Storage performance
Buying wisely and tuning your storage infrastructure for the best possible storage performance is vital to ensure the business is adequately supported. Understanding storage performance starts when you begin to evaluate manufacturers' products and continues as you set up, configure and tune storage hardware to suit your workloads.

Download this free guide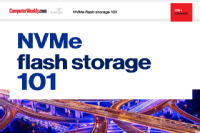 NVMe 101: The early bird catches a big advantage
Designed as a storage protocol for the performance and characteristics of flash, NVMe is much, much more. Making flash actually "flash", NVMe will replace the SAS and SATA bottleneck protocols and bring shared arrays blistering performance.