Web software
Every organisation needs to deliver a great service through the web, whether selling products through e-commerce or connecting with customers and partners. Web software skills are in great demand, using tools such as Ajax, Java, .Net, HTML, Python, Perl and XML. We analyse the tools and technologies needed for a successful web software strategy.

Download this free guide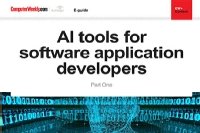 Editor's pick: Top tools for software developers
Download this e-guide for an in-depth discussion into the pros and cons of using AI tools and how to build up your 'AI toolbox'.