Software development tools
As businesses call for greater agility from their IT investments, software developers are required to create applications that are inherently flexible, open and adaptable to changing needs. Techniques such as agile programming and service-oriented architecture (SOA) are increasingly important, and the choice between developer tools such as Java and .Net, or IDEs such as Eclipse or others, is more critical than ever. Read the latest news and analysis about software development tools and how to maintain a successful development strategy.

Download this free guide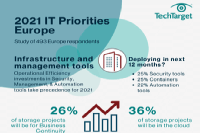 IT Priority Topics 2021 Infographic
This year, a survey was conducted quizzing nearly 500 European IT sector professionals to gather what topics they identified as being imperative for 2021. In this infographic see whether remote working is here to stay, if there will be shifts in information management trends and what infrastructure tools will be deployed by most in 2021. Download this PDF infographic to find out what the results showed.