Download this free guide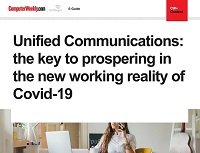 Unified Communications: the key to prospering in the new working reality of Covid-19
The coronavirus is changing everything about how people work, and will do so permanently. It added that even though the working world was experiencing unprecedented uncertainty, there were two things that should be borne in mind: the virus will pass, and at the other side of the pandemic, the world of work will look very different.
News :

Laptops and notebooks
In Depth :

Laptops and notebooks
Security teams should be used to supporting remote workers effectively by now, but what's going to happen when people start returning to their offices? We look at the risks and how to address them. Continue Reading

From the largest financial institutions to small companies, Aussie firms have been dialling up their use of technology tools to keep their businesses humming during the coronavirus pandemic Continue Reading

Find out what CIOs and CISOs need to know to enable their end-users to work remotely and stay secure during the Covid-19 coronavirus crisis, and learn how users can help themselves Continue Reading
Blog Posts :

Laptops and notebooks
Apple probably has more cash than it knows what to do with right now, and this "problem" looks set to intensify if the company decides to repatriate the $250 billion it's holding in overseas ... Continue Reading
Opinion :

Laptops and notebooks
We may come to stop talking about 'remote' working altogether after the coronavirus pandemic. It could become just 'working' – part of the normal mix of how things are done Continue Reading

The belief that effective perimeter security is the best way to protect data is a fallacy that is being repeatedly exposed. We must recognise the need for a data-centric security model to protect data from both internal and external threats, but what does this mean for security professionals? Continue Reading

Highly durable mobile devices should not be only considered for especially challenging work environments - there are considerations for many businesses Continue Reading
Videos :

Laptops and notebooks
In this CW500 Club video, Christoph Burtscher, CEO, Be2Change Consultancy, talks to Computer Weekly editor in chief Bryan Glick about the challenges of IT governance in an era of shadow IT.

In this CW500 club video, Alex Kwiatkowski, Head of Financial Insights Europe, IDC discusses regulatory compliance and BYOD in the finance sector, as well as the challenges and benefits of managing mobility.

In this CW500 Security Club video, Nick Coleman, Fellow of the The Chartered Institute for IT, talks about the emerging challenges of endpoint security and how organisations can ensure data is safe.