Operating systems software
Competition among operating system (OS) suppliers is growing, with new OS products being developed for emerging platforms such as smartphones and netbooks. Microsoft Windows is still the most important product for businesses, but Linux, Mac OS and Unix offer important alternatives, along with device-specific OS such as Android and Chrome. We examine the operating system software choices facing IT managers.

Download this free guide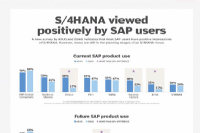 Infographic: S/4HANA viewed positively by SAP Users
SAP has recognised that customers will face challenges and costs when they upgrade to S/4 Hana. It has set out a roadmap to simplify integration, in a bid to lower the transition cost of moving from ECC to the S/4 platform. This infographic shows why most SAP users have positive impressions of SAP S/4Hana.