Operating systems software
Competition among operating system (OS) suppliers is growing, with new OS products being developed for emerging platforms such as smartphones and netbooks. Microsoft Windows is still the most important product for businesses, but Linux, Mac OS and Unix offer important alternatives, along with device-specific OS such as Android and Chrome. We examine the operating system software choices facing IT managers.

Download this free guide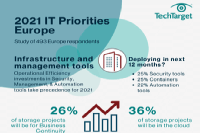 IT Priority Topics 2021 Infographic
This year, a survey was conducted quizzing nearly 500 European IT sector professionals to gather what topics they identified as being imperative for 2021. In this infographic see whether remote working is here to stay, if there will be shifts in information management trends and what infrastructure tools will be deployed by most in 2021. Download this PDF infographic to find out what the results showed.