Operating systems software
Competition among operating system (OS) suppliers is growing, with new OS products being developed for emerging platforms such as smartphones and netbooks. Microsoft Windows is still the most important product for businesses, but Linux, Mac OS and Unix offer important alternatives, along with device-specific OS such as Android and Chrome. We examine the operating system software choices facing IT managers.

Download this free guide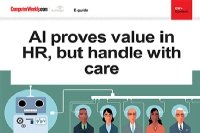 How AI is putting the 'human' back into Human Resources
Discover how the allocation of work by algorithm might have advantages for workers as well as employers, how AI is proving its value for HR and how data analytics is being used to support expansion and development.