Converged infrastructure
The converged infrastructure concept is finding favour with enterprises that want to move away from the traditional, horizontal datacentre hardware silos, and cut the time it takes to kit out their facilities. In a converged infrastructure stack, the required servers, storage and networking equipment are all packaged together in a single, software-defined package, which is usually optimised to run a specific workload or application.

Download this free guide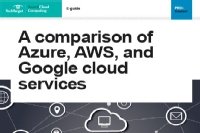 Azure, AWS, and Google cloud services: A comparison chart
Download this vendor-neutral comparison of these three providers to determine which combination – if any – best fits your organisation's infrastructure requirements.