Converged infrastructure
The converged infrastructure concept is finding favour with enterprises that want to move away from the traditional, horizontal datacentre hardware silos, and cut the time it takes to kit out their facilities. In a converged infrastructure stack, the required servers, storage and networking equipment are all packaged together in a single, software-defined package, which is usually optimised to run a specific workload or application.

Download this free guide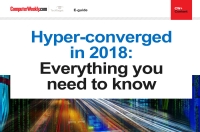 Hyper-converged infrastructure is the toast of 2018
Take a closer look at some of the latest thinking in hyper-converged infrastructure, and join us as we shine a light on the benefits adopting it has brought to customers who have thrown their weight behind the concept.