Virtualisation software
Virtualisation has been one of the hottest IT topics in recent years, with many IT managers seeing the benefits of reducing cost and improving systems management in their storage, server and desktop environments. Virtualisation is also an important step towards making the most of the opportunities offered by cloud computing. We examine the latest trends in virtualisation software and technology.

Download this free guide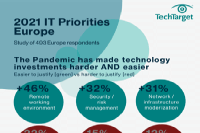 IT Priority Budgets 2021 Infographic
After surveying near 500 European IT sector professionals, the jury is out on what companies across the continent will be spending on in 2021. We dive into what spend will be easier to justify, if budgets for IT companies are on the rise or fall and what the 2021 project rankings are for most in the new year. Download this PDF infographic to find out what the results showed.