Virtualisation software
Virtualisation has been one of the hottest IT topics in recent years, with many IT managers seeing the benefits of reducing cost and improving systems management in their storage, server and desktop environments. Virtualisation is also an important step towards making the most of the opportunities offered by cloud computing. We examine the latest trends in virtualisation software and technology.

Download this free guide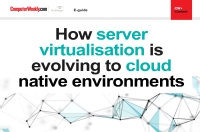 The reason why server virtualisation is slowly evolving towards cloud native environments
We discover how, in recent years, server virtualisation has given businesses the ability to abstract applications and the operating system from the underlying hardware.