Blockchain
Blockchain is an emerging technology that grew out of the bitcoin cryptocurrency, but is finding other uses in financial services, healthcare, government and elsewhere. Blockchain used distributed ledger technology and cryptography to create a highly secure record of transactions without centralised control. Read all the latest news and analysis about blockchain here.

Download this free guide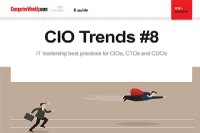 CIO Trends #8: Strategising in the digital age
Take a look at some of our most popular articles on issues faced by IT decision makers, such as how to create a strategy that works for the business in a digital age and tips on how to take advantage of opportunities to lead your organization to unprecedented success.