Blockchain
Blockchain is an emerging technology that grew out of the bitcoin cryptocurrency, but is finding other uses in financial services, healthcare, government and elsewhere. Blockchain used distributed ledger technology and cryptography to create a highly secure record of transactions without centralised control. Read all the latest news and analysis about blockchain here.

Download this free guide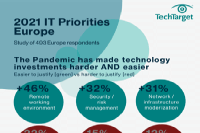 IT Priority Budgets 2021 Infographic
After surveying near 500 European IT sector professionals, the jury is out on what companies across the continent will be spending on in 2021. We dive into what spend will be easier to justify, if budgets for IT companies are on the rise or fall and what the 2021 project rankings are for most in the new year. Download this PDF infographic to find out what the results showed.