Managing servers and operating systems
Get our news and technical advice on datacentre infrastructure, including how to make server hardware choices, using server management tools and how to select operating systems to create an energy-efficient, low-cost data centre environment. We cover rack-mount servers, blade servers, mainframe and Unix servers, Windows Server, Red Hat Linux, SUSE Linux Enterprise Server, other operating systems and more.

Download this free guide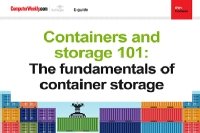 Containers and Storage 101
Explore the basics of Docker storage and backup, key containers capabilities in storage vendors' offers and how containers can be incorporated into the private cloud environment.