Managing servers and operating systems
Get our news and technical advice on datacentre infrastructure, including how to make server hardware choices, using server management tools and how to select operating systems to create an energy-efficient, low-cost data centre environment. We cover rack-mount servers, blade servers, mainframe and Unix servers, Windows Server, Red Hat Linux, SUSE Linux Enterprise Server, other operating systems and more.

Download this free guide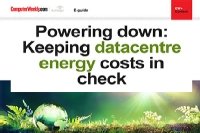 How to keep your datacentre energy costs down
Take a look at some of the outside influences that could potentially impact on datacentre power and management costs in the years to come, also discover some of the latest thinking and best practices around datacentre energy efficiency and cooling today.