Cloud applications
Organisations, both public and private, are turning to cloud computing applications, as they move their infrastructure to the cloud. Find out about SaaS and PaaS through news, features and expert advice. Learn how organisations are managing the complexity of hybrid cloud and on-premise applications, as well as private and public cloud applications.

Download this free guide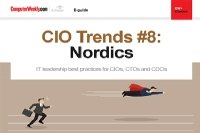 CIO Trends #8: Nordics
Take a look at how digital transformation is shaking up the Nordic region and placing CIOs at the forefront of the social and economic changes that come with it.