Cloud applications
Organisations, both public and private, are turning to cloud computing applications, as they move their infrastructure to the cloud. Find out about SaaS and PaaS through news, features and expert advice. Learn how organisations are managing the complexity of hybrid cloud and on-premise applications, as well as private and public cloud applications.

Download this free guide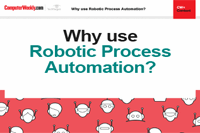 Why use Robotic Process Automation?
In this e-guide, read more about the state of RPA adoption in Asia-Pacific, how different RPA players are addressing the needs of the market and what it takes for RPA projects to deliver on the technology's promises.