Cloud applications
Organisations, both public and private, are turning to cloud computing applications, as they move their infrastructure to the cloud. Find out about SaaS and PaaS through news, features and expert advice. Learn how organisations are managing the complexity of hybrid cloud and on-premise applications, as well as private and public cloud applications.

Download this free guide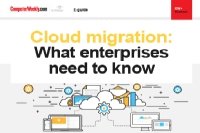 Cloud migration: What enterprises need to know
Get a closer look at what enterprises need to consider to make moving to the cloud as seamless as possible, while sharing some success stories of big name enterprises that have already successfully done it.