Collaboration software and productivity software
Collaboration software and productivity software go increasingly hand-in-hand as IT managers look to make better use of information and document sharing across their organisations. For many companies, Microsoft Office is already a standard tool for personal productivity, but tools such as social media, workflow and business process management (BPM) are important aspects of any collaboration software strategy. We look at the latest trends.

Download this free guide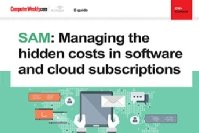 How to effectively manage the hidden costs in your software and cloud subscriptions
Discover how software asset managers are coming up with new ways to give employees freedom and flexibility whilst keeping the ability to easily audit what is being used on-premise and in the cloud as well as what is no longer being used.