Network monitoring and analysis

Download this free guide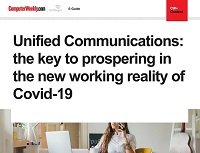 Unified Communications: the key to prospering in the new working reality of Covid-19
The coronavirus is changing everything about how people work, and will do so permanently. It added that even though the working world was experiencing unprecedented uncertainty, there were two things that should be borne in mind: the virus will pass, and at the other side of the pandemic, the world of work will look very different.
News :

Network monitoring and analysis
In Depth :

Network monitoring and analysis
As firms get used to a partial return to the workplace, what will this mean for those that have been charged with keeping business networks up and running during lockdown? Continue Reading

Network brownouts could be the biggest under-the-radar threat to your network. Calculate the potential costs of downtime to save your organization's productivity and money. Continue Reading

Advances in automation, AI and analytics should help IT administrators overcome new challenges in virtualized network environments, but some obstacles will surface. Continue Reading
Blog Posts :

Network monitoring and analysis
One common theme with recent product tests and vendor briefings and that is - automation. Not that there's anything new here per se; back in the mid-90s I remember working on an extensive project ... Continue Reading

Driven by traffic congestion, pollution levels and rising infrastructure costs, the future of public transport is being technology-enhanced on many levels. Thus major initiatives include: ... Continue Reading
Opinion :

Network monitoring and analysis
Henry He of Virtual Instruments looks at tail latency, the small percentage of storage I/O that could be causing big and costly problems for business applications Continue Reading

From how we monitor air pollution and manage our public transport systems, to how we enable connected cars and the next generation of 5G mobile services, the forthcoming ePR could have a lasting impact on European society Continue Reading

Governments in Europe actively assisted in government oppression in Iran, Bahrain and Russia by providing states with sophisticated surveillance equipment. The European Parliament is pressing for changes in the law to restrict exports of spy-technology to countries with poor human rights records Continue Reading
Videos :

Network monitoring and analysis
Computer Weekly discusses the issue of BYOD and privacy with MobileIron and law firm Bircham Dyson Bell

Katie Lips, head of digital strategy & innovation at Aimia, Computer Weekly about the business opportunities from 4G-based mobility.

In this video interview, Ian Kilpatrick of Wick Hill discusses the IPv6 challenges that small and medium businesses are just beginning to address.