Clustering for high availability and HPC
Preventing unplanned downtime in the datacentre is crucial to your organisation's business operations. To ensure the highest availability possible, check out the advice and news on high-availability (HA) clustering in this section, including information on backup, redundancy, failover and HA testing. Also, get the latest on using high-performance computing (HPC) clustering to handle heavy processing demands.

Download this free guide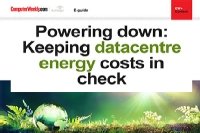 How to keep your datacentre energy costs down
Take a look at some of the outside influences that could potentially impact on datacentre power and management costs in the years to come, also discover some of the latest thinking and best practices around datacentre energy efficiency and cooling today.