Datacentre performance troubleshooting, monitoring and optimisation
Learn about datacentre performance management, including application and hardware performance monitoring and troubleshooting, as well as performance optimisation techniques.

Download this free guide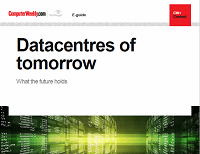 Datacentres of tomorrow: What the future holds
New technologies are widely-tipping to become a mainstay of datacentres in the future. Learn about new and emerging technologies that look set to shake-up the way datacentres are managed, monitored, powered and cooled as well.