Customer relationship management (CRM)
Find Customer Relationship Management (CRM) resources here: news, analysis and case studies on CRM software choices and implementing CRM. Find out how UK companies and organisations are harnessing CRM to drive forward customer-centric business strategies. Understand CRM market trends, and how organisations are managing the customer experience for competitive advantage.

Download this free guide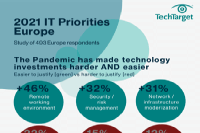 IT Priority Budgets 2021 Infographic
After surveying near 500 European IT sector professionals, the jury is out on what companies across the continent will be spending on in 2021. We dive into what spend will be easier to justify, if budgets for IT companies are on the rise or fall and what the 2021 project rankings are for most in the new year. Download this PDF infographic to find out what the results showed.