Customer relationship management (CRM)
Find Customer Relationship Management (CRM) resources here: news, analysis and case studies on CRM software choices and implementing CRM. Find out how UK companies and organisations are harnessing CRM to drive forward customer-centric business strategies. Understand CRM market trends, and how organisations are managing the customer experience for competitive advantage.

Download this free guide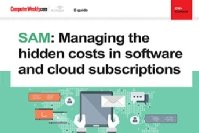 How to effectively manage the hidden costs in your software and cloud subscriptions
Discover how software asset managers are coming up with new ways to give employees freedom and flexibility whilst keeping the ability to easily audit what is being used on-premise and in the cloud as well as what is no longer being used.