Customer relationship management (CRM)
Find Customer Relationship Management (CRM) resources here: news, analysis and case studies on CRM software choices and implementing CRM. Find out how UK companies and organisations are harnessing CRM to drive forward customer-centric business strategies. Understand CRM market trends, and how organisations are managing the customer experience for competitive advantage.

Download this free guide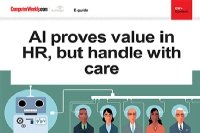 How AI is putting the 'human' back into Human Resources
Discover how the allocation of work by algorithm might have advantages for workers as well as employers, how AI is proving its value for HR and how data analytics is being used to support expansion and development.