Customer relationship management (CRM)
Find Customer Relationship Management (CRM) resources here: news, analysis and case studies on CRM software choices and implementing CRM. Find out how UK companies and organisations are harnessing CRM to drive forward customer-centric business strategies. Understand CRM market trends, and how organisations are managing the customer experience for competitive advantage.

Download this free guide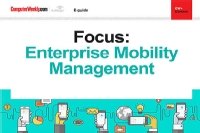 How to find the perfect mobility strategy for your business
We explore enterprise mobility management, looking in-depth at some of the key trends and developments in the world of enterprise mobility, as well as keeping a watchful eye on cybersecurity.