Infrastructure-as-a-Service (IaaS)
Find out what IaaS (Infrastructure-as-a-Service), what it is used for, which companies are using IaaS, and the types of infrastructure included in this category of cloud services.

Download this free guide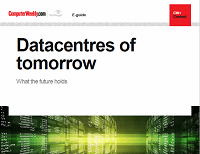 Datacentres of tomorrow: What the future holds
New technologies are widely-tipping to become a mainstay of datacentres in the future. Learn about new and emerging technologies that look set to shake-up the way datacentres are managed, monitored, powered and cooled as well.
News :

Infrastructure-as-a-Service (IaaS)
In Depth :

Infrastructure-as-a-Service (IaaS)
The Covid-19 coronavirus pandemic had a huge impact on the demand for cloud services from enterprises worldwide, but how have the cloud giants fared behind the scenes? Continue Reading

Although there are clear benefits of hybrid cloud, enterprises in Asia-Pacific aren't making the most of them due to a lack of holistic understanding, strategic frameworks and skillsets Continue Reading

The pandemic has served to highlight just how dependent the world is on the datacentre community – and governments, policy-makers and investors are taking note Continue Reading
Blog Posts :

Infrastructure-as-a-Service (IaaS)
In this follow-up guest post Paul Finch, CEO of Harlow-based colocation provider Kao Data, sets out how datacentre designs are having to change to accommodate evolving chip densities and ... Continue Reading

In this guest post, Dob Todorov, CEO of managed services company HeleCloud, outlines why enterprises and SMEs can ill-afford to take a "set it and forget it" attitude to their public cloud ... Continue Reading

In this guest post, Rob Greenwood, technical director at Manchester-based cloud consultancy, Steamhaus, sets out why developers might not be best-placed to run your company's cloud. Just because ... Continue Reading
Opinion :

Infrastructure-as-a-Service (IaaS)
Adopting containers promises great organisational efficiency advantages, but the fast-evolving technology can be problematic for security teams. What do CISOs need to know to safeguard containers? Continue Reading

In 2017, the big cloud providers were focused on competing on infrastructure as a service, but the shift to platforms is shaking up the market Continue Reading

Two decades ago, at the start of the millennium, IT was deeply concerned about Y2K – and the iPhone, Twitter and Facebook didn't exist. So what's in store as a new decade begins? Continue Reading
Videos :

Infrastructure-as-a-Service (IaaS)
Magnus Falk, CIO advisor at Zoom, offers insights on how the company is scaling up its resources to meet the growing usage of its service

Find out what Storage initiatives IT decision makers are planning in 2017

Cloud computing and the internet of things will have a major impact on how security is implemented going forward.