Information technology in the Nordics
Information technology (IT) news, trends, articles and research in the Nordic countries - Sweden, Norway, Denmark, Finland and Iceland. This section covers IT security, data backup and recovery, networking, data centre, cloud computing, mobile applications, virtualisation, big data, virtual machines and more.

Download this free guide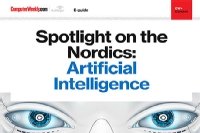 6 reasons why artificial intelligence is going to be essential in the future for the Nordics
Download this e-guide to discover whether AI is truly a threat to humans in terms of the future of work, how AI can benefit humans in the future and how the Finnish government is backing a national AI development strategy.