Information technology in the Nordics
Information technology (IT) news, trends, articles and research in the Nordic countries - Sweden, Norway, Denmark, Finland and Iceland. This section covers IT security, data backup and recovery, networking, data centre, cloud computing, mobile applications, virtualisation, big data, virtual machines and more.

Download this free guide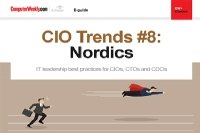 CIO Trends #8: Nordics
Take a look at how digital transformation is shaking up the Nordic region and placing CIOs at the forefront of the social and economic changes that come with it.