Object storage
Object storage does away with the tree-like hierarchical file system of NAS and replaces it with a flat structure in which all objects have a unique identifier, with rich metadata that allows indexing, search, and analytics.

Download this free guide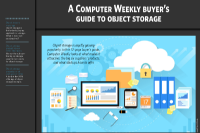 Review of the top 6 products for object storage
Download this guide now to find out why object storage is the fastest-growing approach to storage. You'll gain insight into this growing trend and discover the top 6 solutions for object storage.