Object storage
Object storage does away with the tree-like hierarchical file system of NAS and replaces it with a flat structure in which all objects have a unique identifier, with rich metadata that allows indexing, search, and analytics.

Download this free guide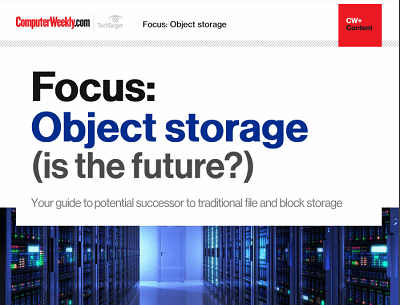 The object of my storage
Object storage does away with the tree-like hierarchies of file systems used by traditional storage NAS and SAN systems. Instead, allowing access to stored items via a flat system of unique identifiers, something like the domain name system of the internet. Engage with this content to learn how to do away with unwieldy file systems as well as boost the potential for analytics on your data.
By submitting your personal information, you agree that TechTarget and its partners may contact you regarding relevant content, products and special offers.
You also agree that your personal information may be transferred and processed in the United States, and that you have read and agree to the Terms of Use and the Privacy Policy.