Data centre
Deciding where and how to build and operate a datacentre is one of the most important decisions your organisation will make. This section covers how to build a solid datacentre infrastructure, including selecting the right location to build your new facility, best practices for designing a new datacentre, and cooling and air flow techniques. Learn about green IT, data management systems, servers and operating systems.

Download this free guide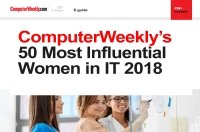 The 50 most influential women in UK IT 2018
Download this e-guide to discover our in-depth profiles on our top 50 women in UK IT for 2018, read an exclusive interview with the winner and check out the new entrants into our Hall of Fame.