Data centre
Deciding where and how to build and operate a datacentre is one of the most important decisions your organisation will make. This section covers how to build a solid datacentre infrastructure, including selecting the right location to build your new facility, best practices for designing a new datacentre, and cooling and air flow techniques. Learn about green IT, data management systems, servers and operating systems.

Download this free guide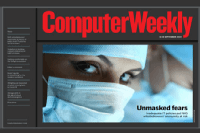 NHS whistleblowers at risk due to poor IT policies
In this week's Computer Weekly, our investigation into NHS practices shows how poor IT policies are putting whistleblowers at risk. Our buyer's guide examines the networking implications of the surge in remote working. And we assess how well the public cloud giants responded to the demands of the coronavirus pandemic Read the issue now.