Data centre
Deciding where and how to build and operate a datacentre is one of the most important decisions your organisation will make. This section covers how to build a solid datacentre infrastructure, including selecting the right location to build your new facility, best practices for designing a new datacentre, and cooling and air flow techniques. Learn about green IT, data management systems, servers and operating systems.

Download this free guide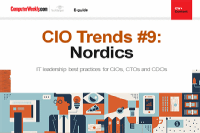 CIO Trends #9: Nordics
Read the story of three banks in Finland that are working together to keep pace with the tech changes in the industry. Also, take a closer look at the cloud first policy at shipping giant Maersk.