Data centre
Deciding where and how to build and operate a datacentre is one of the most important decisions your organisation will make. This section covers how to build a solid datacentre infrastructure, including selecting the right location to build your new facility, best practices for designing a new datacentre, and cooling and air flow techniques. Learn about green IT, data management systems, servers and operating systems.

Download this free guide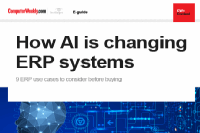 9 ERP use cases you should not miss
The rise of machine learning and AI in the workplace has been well documented over the past few years, and the growth of the machine is unquestionable. However, recent shifts in AI technology are now specifically having an impact on ERP software. Download this e-guide to read more.