WAN performance and optimisation

Download this free guide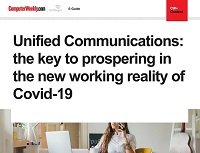 Unified Communications: the key to prospering in the new working reality of Covid-19
The coronavirus is changing everything about how people work, and will do so permanently. It added that even though the working world was experiencing unprecedented uncertainty, there were two things that should be borne in mind: the virus will pass, and at the other side of the pandemic, the world of work will look very different.
News :

WAN performance and optimisation
In Depth :

WAN performance and optimisation
As firms get used to a partial return to the workplace, what will this mean for those that have been charged with keeping business networks up and running during lockdown? Continue Reading

Design and engineering has rapidly evolved to be all about interconnected devices. We see how one of the leading manufacturing software suppliers is meeting the challenge Continue Reading

Covid-19 lockdowns are causing a collective rethink in the way companies operate, with unified communications transformed from a nice-to-have to a business essential as remote working becomes the new normal Continue Reading
Blog Posts :

WAN performance and optimisation
As promised in the previous blog, given the seeming importance of SASE, here's more definition in terms of what briefings with Cato Networks revealed. If we look at the key areas where SASE and ... Continue Reading

For all the impacts the likes of COVID-19 and technological advance have on IT, there are two immovable staples that we can rely on: Gartner to keep on introducing new acronyms to create new magic ... Continue Reading

I was recently sent an article by my PR mate Hannah from one of their clients, Versa – a company I've met up with and they talk a lot of common sense, far more than their er, so-called president… ... Continue Reading
Opinion :

WAN performance and optimisation
Delivering business value from the promise of highly networked sensor devices is harder than it first appears – and lessons can be learned in unexpected places Continue Reading

The emergence of over the top video services is having a massive impact on underlying network technology, according to the ITP Continue Reading

Copper-based local area networks are increasingly unfit for purpose in a digital enterprise, but passive optical LANs may be a solution. Tech evangelist Paul Ryan, European chair of the Association of Passive Optical LAN, explains why Continue Reading
Videos :

WAN performance and optimisation
This video explains some of the major SD-WAN pros and cons, including improved application performance, security and troubleshooting.

This video discusses the differences between SD-WAN and MPLS and explains why a hybrid WAN architecture -- that uses both technologies -- might be the best fit.