Information technology (IT) in Russia
In this section, browse news, analysis, trends and research about information technology (IT) in Russia. Find information on topics such as IT management, information security, data storage, backup and recovery, networking, data centre, cloud computing, mobile technology and applications, virtualisation, VMware, big data, virtual machines, and more.

Download this free guide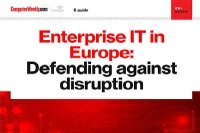 The reason why French technology startups are steaming ahead of the competition
We take a look at startups throughout Europe that are aiming to disrupt the sector by using the latest technologies and conversely on more traditional companies aiming to defend themselves against disruption through digital transformation.