Information technology (IT) in Russia
In this section, browse news, analysis, trends and research about information technology (IT) in Russia. Find information on topics such as IT management, information security, data storage, backup and recovery, networking, data centre, cloud computing, mobile technology and applications, virtualisation, VMware, big data, virtual machines, and more.

Download this free guide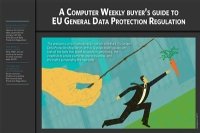 Getting up to scratch with GDPR compliance
This 12 page GDPR mythbuster will help separate the rights from the wrongs, whilst giving you the tools you need to build a regulation-compliant business.