Datacentre disaster recovery and security
Get up-to-date news and information on disaster recovery (DR) processes and planning to ensure that your business will stay up and running in the event of a disaster. Checks on generator testing, load testing, breaker design and fuel supply need to be taken care of long before a disaster hits so that when a disaster is happening you are not spending time doing things that you would not normally be doing. Find out about backup power supply products and how to failover and failback servers in the event of an outage. Discover ways to keep disaster recovery documentation up to date and available to all employees. This section also includes news and how-to information on securing your buildings against theft and natural disasters as well IT security, compliance and risk management.

Download this free guide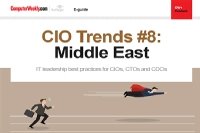 CIO Trends #8: Middle East
Join us as we take a look at Bahrain and its efforts to make itself the go to fintech hub of the Middle East, the rapid progress being made in Dubai as the government strives to make the city smart and how the region is reacting to the implementation of 5G.