Business intelligence and analytics

Download this free guide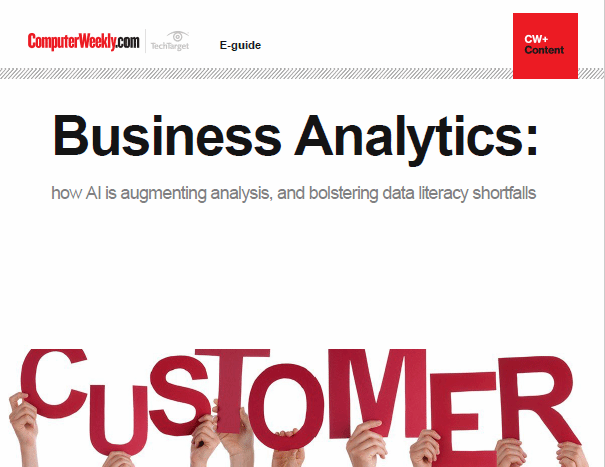 Business Analytics: how AI is augmenting analysis, and bolstering data literacy shortfalls
Artificial Intelligence and human analysis have been coming together in recent years. Whether using packaged BI and data preparation tools, or languages like Python and R, business analysts and data scientists and engineers alike have been exploring the use of machine learning algorithms to augment their data analyses. Read more in this e-guide.
News :

Business intelligence and analytics
In Depth :

Business intelligence and analytics
In this buyer's guide, we look at the state of adoption of business intelligence and analytics tools, common use cases and other technology and business considerations Continue Reading

To help you buy the right BI tool for your data analysis needs, here's a look at 20 leading technologies, the different types of BI software and key features to look for. Continue Reading

Artificial intelligence and machine learning storage is not one-size-fits-all. Analytics work differs, and has varied storage requirements for capacity, latency, throughput and IOPS. We look at key decision points Continue Reading
Blog Posts :

Business intelligence and analytics
This is a guest blogpost by Rich Pugh, co-founder and chief data scientist, Mango Solutions The things we do not know about Covid-19 seem almost endless. There are no clear answers yet to some of ... Continue Reading

This is a guest blogpost by Dean Stoecker, CEO, Alteryx Major global events force companies to think differently. The Covid-19 pandemic is no exception. In the first few weeks of the crisis, I ... Continue Reading

This is a guest blogpost by Ed Thompson, CTO and co-founder, Matillion. Jessica is a data analyst at a leading eCommerce company and is tasked with analysing the usage patterns of the business to ... Continue Reading
Opinion :

Business intelligence and analytics
Caroline Carruthers, CEO of Carruthers and Jackson, cogitates on the balance between gut and data in making personal risk decisions, ahead of a CDO summer school Continue Reading

The public needs and deserves clarity, and not just assurances, over the UK's Covid-19 contact-tracing app Continue Reading

How can security professionals help their organisations move from traditional governance, risk and compliance to integrated risk management that integrates risk activities from across an organisation to enable better strategic decision making? Continue Reading
Videos :

Business intelligence and analytics
Innovation driven by data analytics is important, not only to companies, but also to dogs waiting to be adopted in shelters. SAS best practices consultant Jill Dyché explains why.

Leading technology experts discuss the trends in enterprise software and how this will impact future applications

SAS consultant and author Jill Dyché discusses how self-service BI and business control of systems affect IT teams and details a novel approach to IT buying that may ease push-pull issues.