Information technology (IT) in ASEAN
Read the latest news and trends about information technology (IT) in the ASEAN region, including Singapore, Malaysia, Indonesia, Thailand, Philippines, Vietnam. Find valuable resources on IT management topics, including security, data storage, backup and recovery, networking, data centre, cloud computing, mobile technology, virtualisation, big data, virtual machines and more.

Download this free guide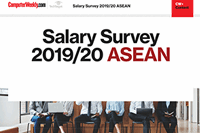 54% of IT professionals received a pay rise last year. Did you?
Computer Weekly's 2019/20 Salary Survey guide provides an overview of IT salaries in Asean. Find out what you're worth and learn more about the salary and benefits expectations of your peers.