Download this free guide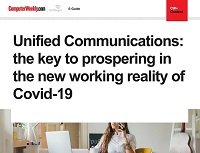 Unified Communications: the key to prospering in the new working reality of Covid-19
The coronavirus is changing everything about how people work, and will do so permanently. It added that even though the working world was experiencing unprecedented uncertainty, there were two things that should be borne in mind: the virus will pass, and at the other side of the pandemic, the world of work will look very different.
News :

E-commerce technology
In Depth :

E-commerce technology
Could the Covid-19 coronavirus pandemic further consolidate surveillance capitalist practices and enterprises? Author Shoshana Zuboff warns Computer Weekly it is possible Continue Reading

Former Amazon employee Christian Smalls speaks to Computer Weekly about his termination and how the company is trying to silence dissent as it reports massive sales Continue Reading

The spending limit for contactless card payments is increasing to £45 today (1 April), which is just one of several ways that retail point-of-sale is evolving in response to the coronavirus Continue Reading
Blog Posts :

E-commerce technology
GUEST BLOG: In this contributed blog post Jessica Murphy, co-founder of apparel and footwear retail personalisation platform True Fit, discusses how technology can help bridge the gap between ... Continue Reading

There wasn't much fanfare around Amazon Prime's midweek maiden voyage into Premier League football coverage. We'd have missed the delectable choice of fixtures altogether had we not opened the app ... Continue Reading

The Conservatives' doctored version of Keir Starmer's Good Morning Britain interview left out our favourite bit: an arms-folded Piers Morgan insisting he's "absolutely fine" with 26 billionaires ... Continue Reading
Opinion :

E-commerce technology
Examining the long-term impact of the Covid-19 coronavirus pandemic on the world of work, security, privacy and networks Continue Reading

Cyber attacks exploiting Magecart JavaScript skimmers are spiking during the coronavirus pandemic, and like biological viruses, they just keep evolving Continue Reading

UK banks face huge challenges keeping their service availability levels at 99.99% Continue Reading
Videos :

E-commerce technology
On February 9 2015, Computer Weekly, TechUK and BCS held a digital debate with the Conservative, Labour and Liberal Democrat parties

Computer Weekly discusses the issue of BYOD and privacy with MobileIron and law firm Bircham Dyson Bell

Kevin McDonagh, CEO of startup technology company, Novoda, asks fellow startup colleagues in Berlin's Silicon Drinkabout networking evening what is so hot about Berlin's startup scene?