Virtualisation management strategy
This section on virtualisation management and strategy helps you build and manage your virtualized environment. We offer news and technical strategies on P2V, V2V V2P server migration, server consolidation strategies, ways to improve virtual machine performance, methods for preventing virtual server sprawl, desktop virtualisation deployment strategies and more.

Download this free guide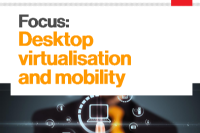 Three VDI challenges that can derail any project
Desktop virtualisation interests have peaked recently as companies look to have their employees more productive while mobile. Computer Weekly takes a look at how organisations have addressed the vast challenges with VDI deployment including data security and unlimited access.