Virtualisation management strategy
This section on virtualisation management and strategy helps you build and manage your virtualized environment. We offer news and technical strategies on P2V, V2V V2P server migration, server consolidation strategies, ways to improve virtual machine performance, methods for preventing virtual server sprawl, desktop virtualisation deployment strategies and more.

Download this free guide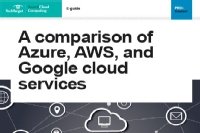 Azure, AWS, and Google cloud services: A comparison chart
Download this vendor-neutral comparison of these three providers to determine which combination – if any – best fits your organisation's infrastructure requirements.