Datacentre systems management
Read about datacentre systems management, including configuration and change management, performance monitoring, capacity planning, ITIL and IT governance, and clustering for high availability (HA) and high-performance computing (HPC).

Download this free guide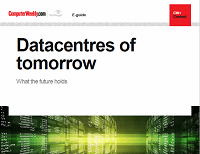 Datacentres of tomorrow: What the future holds
New technologies are widely-tipping to become a mainstay of datacentres in the future. Learn about new and emerging technologies that look set to shake-up the way datacentres are managed, monitored, powered and cooled as well.