Containers and storage
Containerisation is a form of virtualisation that allows applications to be developed to run in lightweight containers. It aims to decouple applications and all they need to run from the infrastructure they run on. But they often need persistent storage and that is deliverable in a variety of ways: Software-defined in the container orchestrator and in external array systems.

Download this free guide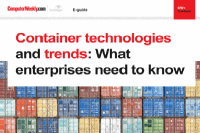 Container technologies and trends: What enterprises need to know
In this e-guide, we take a look at how and why enterprises are tapping into containers to bolster the business agility of their IT infrastructure and application estates, and some of the latest thinking about how best to utilise container technologies.