Software-defined networking (SDN)
Software-defined networking (SDN) is the latest buzzword in the networking industry, but there is still vast debate on the best way to implement it and which businesses it is suitable for. Read the latest about SDN and find tips and advice on the technology trend taking networking by storm, with all the news, case studies and advice in this topic section.

Download this free guide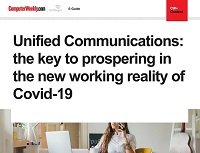 Unified Communications: the key to prospering in the new working reality of Covid-19
The coronavirus is changing everything about how people work, and will do so permanently. It added that even though the working world was experiencing unprecedented uncertainty, there were two things that should be borne in mind: the virus will pass, and at the other side of the pandemic, the world of work will look very different.