Service-oriented architecture (SOA)
Service-oriented architecture (SOA) is a software development model that allows services to communicate across different platforms and languages to form applications.. See complete definition.

Download this free guide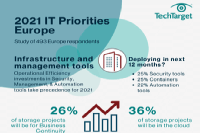 IT Priority Topics 2021 Infographic
This year, a survey was conducted quizzing nearly 500 European IT sector professionals to gather what topics they identified as being imperative for 2021. In this infographic see whether remote working is here to stay, if there will be shifts in information management trends and what infrastructure tools will be deployed by most in 2021. Download this PDF infographic to find out what the results showed.