Server virtualisation platforms and management
Get news and technical advice on virtualisation platforms, virtualisation management and strategy. Our resources weigh the pros and cons of virtualisation platforms (VMware, Hyper-V and XenServer) in light of your datacentre requirements and offer step-by-step guidance on virtualisation management tasks, such as installing Hyper-V or VMware, monitoring, troubleshooting and securing virtual machines, P2V, V2P, V2V migration, desktop virtualisation strategies, and more.

Download this free guide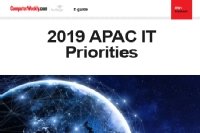 Make 2019 the year of great IT decisions
Before any investment, how about taking a look at your peers' IT priorities for 2019? Download the results of our survey right now to find out in which areas IT decision makers are planning to invest in the nearest future!