Server virtualisation platforms and management
Get news and technical advice on virtualisation platforms, virtualisation management and strategy. Our resources weigh the pros and cons of virtualisation platforms (VMware, Hyper-V and XenServer) in light of your datacentre requirements and offer step-by-step guidance on virtualisation management tasks, such as installing Hyper-V or VMware, monitoring, troubleshooting and securing virtual machines, P2V, V2P, V2V migration, desktop virtualisation strategies, and more.

Download this free guide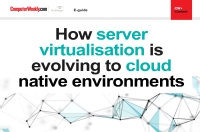 The reason why server virtualisation is slowly evolving towards cloud native environments
We discover how, in recent years, server virtualisation has given businesses the ability to abstract applications and the operating system from the underlying hardware.