Server virtualisation platforms and management
Get news and technical advice on virtualisation platforms, virtualisation management and strategy. Our resources weigh the pros and cons of virtualisation platforms (VMware, Hyper-V and XenServer) in light of your datacentre requirements and offer step-by-step guidance on virtualisation management tasks, such as installing Hyper-V or VMware, monitoring, troubleshooting and securing virtual machines, P2V, V2P, V2V migration, desktop virtualisation strategies, and more.

Download this free guide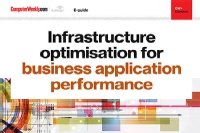 Server hardware specs and design: The latest trends
Join us as we take a look at some of the latest trends in server hardware design and specifications to help IT buyers make an informed choice about the best infrastructure to run their portfolios of business applications on.