Business applications
At the heart of enterprise software strategy are the key business applications upon which every organisation relies. From enterprise resource planning (ERP) to customer relationship management (CRM), financial and accounts software to business intelligence (BI), such applications demand high investments and can deliver high returns. We analyse the latest product developments and the news from major suppliers such as Oracle, Microsoft and SAP.

Download this free guide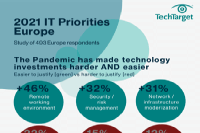 IT Priority Budgets 2021 Infographic
After surveying near 500 European IT sector professionals, the jury is out on what companies across the continent will be spending on in 2021. We dive into what spend will be easier to justify, if budgets for IT companies are on the rise or fall and what the 2021 project rankings are for most in the new year. Download this PDF infographic to find out what the results showed.