Information technology (IT) in the Middle East
Information technology (IT) news, trends, articles and research for the Middle East - the United Arab Emirates, Egypt, Saudi Arabia, Lebanon, Palestine, Qatar, Iran, Jordan, Kuwait, Bahrain, and others. This section covers IT security, data backup and recovery, networking, data centre, cloud computing, mobile applications, virtualisation, big data, virtual machines and more.

Download this free guide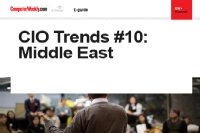 CIO Trends #10: Middle East
Find out how Saudi Arabia could become the Silicon Valley of the Middle East. Read more about it in this issue of our CIO Trends Middle East series.
News :

Information technology (IT) in the Middle East
In Depth :

Information technology (IT) in the Middle East
Facebook promised its users privacy then quietly abandoned its promises in pursuit of profits. Now it faces antitrust regulation Continue Reading

The forthcoming General Data Protection Regulation (GDPR) will have wide-ranging implications for every organisation that processes personal data. This comprehensive overview tells you what you need to know Continue Reading

Turkish mobile network operators are designing services that will help Syrian refugees make their lives in the country Continue Reading
Blog Posts :

Information technology (IT) in the Middle East
Opinion :

Information technology (IT) in the Middle East
The European Commission has published a guide to the EU's approach to the human and ethical effects that artificial intelligence might bring Continue Reading

Technology companies frequently ask whether they should capitalise their research and development costs. There are clear benefits, increasing reported profit and hence potential valuations, but what are the risks? Continue Reading

Can you imagine a future in which we can be secure online without having to remember an unwieldly list of passwords? Solutions are emerging that could make passwords redundant, but there will be other security problems to resolve Continue Reading