Information technology (IT) in the Middle East
Information technology (IT) news, trends, articles and research for the Middle East - the United Arab Emirates, Egypt, Saudi Arabia, Lebanon, Palestine, Qatar, Iran, Jordan, Kuwait, Bahrain, and others. This section covers IT security, data backup and recovery, networking, data centre, cloud computing, mobile applications, virtualisation, big data, virtual machines and more.

Download this free guide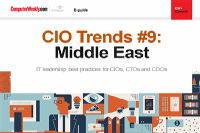 CIO Trends #9: Middle East
Find out how Saudi Arabia is using blockchain to enable consumers to use their faces to withdraw money from cash machines. Also, read how the UAE's Etihad Airways is working to use AI to help it better engage with staff and benefit from their knowledge and ideas.