Information technology (IT) in the Middle East
Information technology (IT) news, trends, articles and research for the Middle East - the United Arab Emirates, Egypt, Saudi Arabia, Lebanon, Palestine, Qatar, Iran, Jordan, Kuwait, Bahrain, and others. This section covers IT security, data backup and recovery, networking, data centre, cloud computing, mobile applications, virtualisation, big data, virtual machines and more.

Download this free guide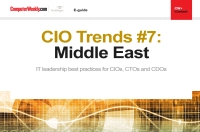 CIO Trends #7: Middle East - Saudi-con Valley
Read about smart city initiatives in the Gulf Cooperation Council countries as well as why Saudi Arabia has sent a delegation to the bustling tech hub in the US - Silicon Valley. Also find out how a rare fault caused Visa's global payment system to go offline.