Information technology (IT) in Benelux
Read the latest tech news and trends in Benelux. Find articles and resources on IT security, data storage, backup and recovery, networking, data centre, cloud computing, mobile technology, virtualisation, big data, virtual machines and more.

Download this free guide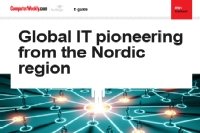 Global IT pioneering from the Nordic region
The Nordic region might be small in terms of the number of people, but it certainly makes a lot of noise in the international IT sector. Read in this e-guide how the Nordic region is leading green tech revolution.