Download this free guide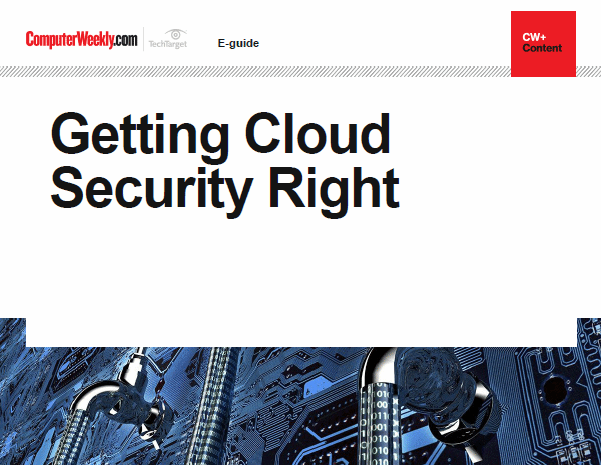 Getting Cloud Security Right
Let's face it, cloud security can be done very wrong. Let's learn to do it right. Regular Computer Weekly contributor Peter Ray Allison explores this issue, weighing up the questions organisations should be asking of their cloud service providers, and whose responsibility cloud security should be.
In Depth :

Cloud security
Containers have become a common fixture in software development, but they have resulted in new concerns for security teams. Is zero-trust the answer to tackling them? Continue Reading

The Covid-19 pandemic is forcing massive change across the business world and things may never go back to normal. What does security look like in this new world, and what will buyers be prioritising? Continue Reading

With a majority of IT decision-makers holding the opinion that their employers are complacent when it comes to data protection, we look at what needs to be fixed, and how to fix it Continue Reading
Blog Posts :

Cloud security
As promised in the previous blog, given the seeming importance of SASE, here's more definition in terms of what briefings with Cato Networks revealed. If we look at the key areas where SASE and ... Continue Reading

For all the impacts the likes of COVID-19 and technological advance have on IT, there are two immovable staples that we can rely on: Gartner to keep on introducing new acronyms to create new magic ... Continue Reading

Had my first visit to The Gherkin recently at a "mini" Netevents security briefing in London. I can certainly recommend the brioche-bun bacon butties with a view of the London rain from the 38th ... Continue Reading
Opinion :

Cloud security
Artificial intelligence and machine learning techniques are said to hold great promise in security, enabling organisations to operate an IT predictive security stance and automate reactive measures when needed. Is this perception accurate, or is the importance of automation being gravely overestimated? Continue Reading

Adopting containers promises great organisational efficiency advantages, but the fast-evolving technology can be problematic for security teams. What do CISOs need to know to safeguard containers? Continue Reading

The federal government's current approach of allowing each agency to make its own cyber decisions is not working and more needs to be done to hunt down adversaries Continue Reading
Videos :

Cloud security
Magnus Falk, CIO advisor at Zoom, offers insights on how the company is scaling up its resources to meet the growing usage of its service

In this CW500 video, Jonathan Moreira, CTO of PrimaryBid.com, gives a fintech startup's perspective on the security challenges small businesses can face when adopting new technologies.

In this CW500 video, Paddy Francis, CTO, Airbus CyberSecurity shares his advice and experiences of keeping tabs on security when trying to introduce emerging digital technologies into large organisations.