Database software
With the volumes of digital data used by businesses growing at exponential rates, having the right information management and database software becomes key to corporate decision-making. While established products such as Oracle, DB2 and Informix remain widely used, open source alternatives such as MySQL and Ingres offer potential alternatives for IT managers. We examine the issues around choosing the right products and strategies for your organisation.

Download this free guide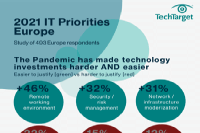 IT Priority Budgets 2021 Infographic
After surveying near 500 European IT sector professionals, the jury is out on what companies across the continent will be spending on in 2021. We dive into what spend will be easier to justify, if budgets for IT companies are on the rise or fall and what the 2021 project rankings are for most in the new year. Download this PDF infographic to find out what the results showed.