Database software
With the volumes of digital data used by businesses growing at exponential rates, having the right information management and database software becomes key to corporate decision-making. While established products such as Oracle, DB2 and Informix remain widely used, open source alternatives such as MySQL and Ingres offer potential alternatives for IT managers. We examine the issues around choosing the right products and strategies for your organisation.

Download this free guide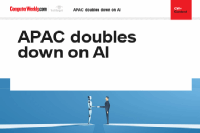 APAC doubles down on AI
After coming to grips with AI ethics, APAC companies are growing their expertise in the global for AI supremacy. Discover in this eguide how and why APAC doubles down on AI.