DevOps
DevOps describes the creation of cross-functional IT teams, containing developers and operations staff, who are encouraged to closely collaborate on software development and infrastructure management tasks to speed up deployment cycles. DevOps is associated with the use of cloud, containers and microservices technologies, and helps organisations to continuously deliver product updates and code changes into production environments.

Download this free guide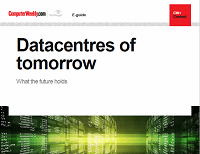 Datacentres of tomorrow: What the future holds
New technologies are widely-tipping to become a mainstay of datacentres in the future. Learn about new and emerging technologies that look set to shake-up the way datacentres are managed, monitored, powered and cooled as well.