Containers
Containers are a form of operating system virtualisation that allows developers to isolate and package up all or part of an application, effectively into a portable building block. Open-source Docker and Google-backed Kubernetes are both high-profile example of container technology, with IBM, Microsoft and Red Hat all championing the use of the former within their products and environments.

Download this free guide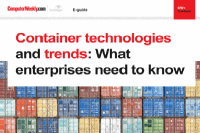 Container technologies and trends: What enterprises need to know
In this e-guide, we take a look at how and why enterprises are tapping into containers to bolster the business agility of their IT infrastructure and application estates, and some of the latest thinking about how best to utilise container technologies.