Containers
Containers are a form of operating system virtualisation that allows developers to isolate and package up all or part of an application, effectively into a portable building block. Open-source Docker and Google-backed Kubernetes are both high-profile example of container technology, with IBM, Microsoft and Red Hat all championing the use of the former within their products and environments.

Download this free guide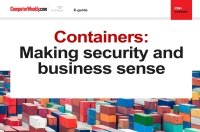 Why containers make both security and business sense
Read about why established security suppliers are finally adding containers to their repertoire, and how security pros must decide between trusted platform integration and the latest features from startups.