Network routing and switching

Download this free guide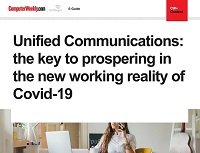 Unified Communications: the key to prospering in the new working reality of Covid-19
The coronavirus is changing everything about how people work, and will do so permanently. It added that even though the working world was experiencing unprecedented uncertainty, there were two things that should be borne in mind: the virus will pass, and at the other side of the pandemic, the world of work will look very different.
News :

Network routing and switching
In Depth :

Network routing and switching
As firms get used to a partial return to the workplace, what will this mean for those that have been charged with keeping business networks up and running during lockdown? Continue Reading

5G's development has been driven by a variety of use cases leading to a multi-service capability – a network of networks. But what is the reality of this, and how is it expected to change as we move forward? Continue Reading

Supporting business transformation and disruption seem to be on every supplier's lips these days, but not many can say they are where they are today precisely because of their own business transformation and disruption. Extreme Networks can Continue Reading
Blog Posts :

Network routing and switching
European telco industry needs to get on the SD WAN bus, and work closely with the auto industry. Continue Reading
Opinion :

Network routing and switching
Can you imagine a future in which we can be secure online without having to remember an unwieldly list of passwords? Solutions are emerging that could make passwords redundant, but there will be other security problems to resolve Continue Reading

The emergence of over the top video services is having a massive impact on underlying network technology, according to the ITP Continue Reading

The car industry needs to agree open standards to allow connected cars and autonomous vehicles to communicate. The bIoTope project is one initiative that could lead the way to agreement Continue Reading
Videos :

Network routing and switching
Katie Lips, head of digital strategy & innovation at Aimia, Computer Weekly about the business opportunities from 4G-based mobility.