Download this free guide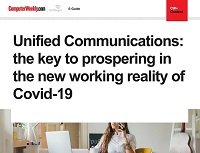 Unified Communications: the key to prospering in the new working reality of Covid-19
The coronavirus is changing everything about how people work, and will do so permanently. It added that even though the working world was experiencing unprecedented uncertainty, there were two things that should be borne in mind: the virus will pass, and at the other side of the pandemic, the world of work will look very different.
In Depth :

Network software
Networking technologies are being driven heavily by digitisation and cloud computing. Gartner picks three networking trends to watch Continue Reading

5G's development has been driven by a variety of use cases leading to a multi-service capability – a network of networks. But what is the reality of this, and how is it expected to change as we move forward? Continue Reading

World's third biggest maker of telecommunication equipment reveals its plans for new technologies including 5G, the internet of things and automation Continue Reading
Blog Posts :

Network software
Artificial Intelligence IT Operations (AIOps) company Moogsoft has come forward with version 8.0 of its Moogsoft Enterprise product. This is software designed to serve IT Ops and DevOps teams as ... Continue Reading

The Computer Weekly Developer Network team found itself 'down south' in Nashville, Tennessee this week for Tanium CONVERGE 2019. Now in its fourth year, the event has gained some critical mass and ... Continue Reading

Cisco is not a cables, hubs, switches and routers (did someone say token ring adapter?) focused networking company, Cisco is a software company focused on developers - right? Well, such is the ... Continue Reading
Opinion :

Network software
The head of networking at Google Cloud looks at how the move to a microservices architecture is leading to a networking technology revolution Continue Reading

The European Court of Justice will deliver an opinion on whether Europe can legally continue to send private data about European citizens to the US Continue Reading

With reports suggesting some major changes may be afoot at EMC, Clive Longbottom looks at the reasons why Continue Reading
Videos :

Network software
Computer Weekly discusses the issue of BYOD and privacy with MobileIron and law firm Bircham Dyson Bell

Microsoft is using its Dutch headquarters as part of a radical experiment that the company believes could demonstrate the future of the workplace.

ComputerWeekly went along to the Get Ahead 2008 event and spoke to speakers from Star Internet, Microsoft and Armstrong Communications about their presentations.