CW500 and IT leadership skills

Download this free guide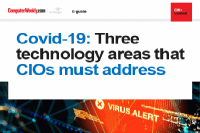 Covid-19: Three technology areas that CIOs must address
CIOs will need to consider the IT measures that will be needed to support their organisations as the government ramps up its response to the coronavirus. Click below to download now!
News :

CW500 and IT leadership skills
In Depth :

CW500 and IT leadership skills
Traditional bookshop chain Blackwell's talked about adaptations to its business model, trends and IT operation during the coronavirus crisis Continue Reading

Organisations' environmental, social and governance programmes depend on IT leaders for technological backup Continue Reading

In 2003, subpostmaster Alan Bates had his contract terminated when he refused to comply with Post Office policy. A decade and a half later, against the odds, he took the Post Office to the High Court and won a multimillion-pound legal case Continue Reading
Blog Posts :

CW500 and IT leadership skills
It's easy to predict many of the pains that are going to hit business as the UK attempts to follow its neighbours in re-opening from lockdown. Businesses face a new and awkward world where social ... Continue Reading

Two months into lockdown, Gartner is forecasting an 8% decline in global IT spending in 2020 – a figure that would be seen as catastrophic in any other year. But considering that some economies are ... Continue Reading

This is a guest blogpost by Torgil Hellman, chief architect, Atea. In the situation we currently find ourselves, right in the crosshairs of a global pandemic, most people reading this article will ... Continue Reading
Opinion :

CW500 and IT leadership skills
Corporate leaders are turning to IT to build a digital future for their organisations – and CIOs can use their experience of pandemic-induced changes to build a new post-Covid strategy Continue Reading

Government and investors have shown their support for tech startups during the coronavirus pandemic, but there are still challenges ahead and it's not a time for complacency Continue Reading

Digital transformation projects are returning as organisations realise that improvements in productivity and customer engagement are now even more important – providing that the work can be done remotely and there's still cash to pay for it Continue Reading
Videos :

CW500 and IT leadership skills
In this video of Computer Weekly's annual diversity event Debbie Forster, CEO of the Tech Talent Charter, gives her acceptance speech as the 2019 Most Influential Woman in UK Tech

In this CW500 video, Jonathan Moreira, CTO of PrimaryBid.com, gives a fintech startup's perspective on the security challenges small businesses can face when adopting new technologies.

In this CW500 video, Paddy Francis, CTO, Airbus CyberSecurity shares his advice and experiences of keeping tabs on security when trying to introduce emerging digital technologies into large organisations.