Download this free guide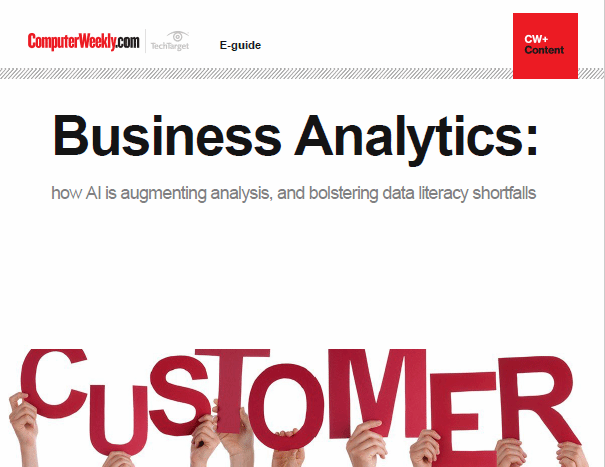 Business Analytics: how AI is augmenting analysis, and bolstering data literacy shortfalls
Artificial Intelligence and human analysis have been coming together in recent years. Whether using packaged BI and data preparation tools, or languages like Python and R, business analysts and data scientists and engineers alike have been exploring the use of machine learning algorithms to augment their data analyses. Read more in this e-guide.
In Depth :

Data warehousing
There's still a place for data warehouses in data architectures. But first, ask whether your organization needs one and what type of technology platform is the best fit. Continue Reading

The California Consumer Privacy Act, a wide-ranging data privacy and consumer protection law, comes into effect on 1 January 2020. How does CCPA differ from the EU GDPR regulations and what are the responsibilities for UK businesses operating in the US? Continue Reading

In this interview, author and data modeling instructor Steve Hoberman discusses techniques for dealing with challenges that may arise in the data modeling process. Continue Reading
Blog Posts :

Data warehousing
This is a guest blogpost by Neil Barton, CTO, WhereScape For CDOs, defining the data and analytics strategy for their organization is increasingly the most important aspect of their job, with 86% ... Continue Reading

Trainline's data scientists are applying the latest technologies to vast data sets to make train journey ticket prices easier to navigate Continue Reading

This is a guest blogpost by Dave Wells, practice director, data management at Eckerson Group. If there's one thing the IT industry is exceptionally good at it, it's proclaiming the death of a ... Continue Reading
Opinion :

Data warehousing
At the end of this year, the UK will no longer be subject to the EU's treaties, opening the way for it and the US to finalise a new trade relationship. Could the UK leave EU data protection standards behind? Continue Reading

A high-wire gamble with billions in compensation at stake for European internet users – part of a complex case between Facebook and the Irish information commissioner – hides challenge to the unlawfulness of US state internet surveillance Continue Reading

Irish data protection commissioner Helen Dixon has neatly avoided having to deal with the US surveillance of Facebook users in Europe by referring a complaint by Austrian lawyer Max Schrems to the European Court of Justice Continue Reading
Videos :

Data warehousing
Brian Gentile, general manager for Tibco's analytics business, believes BI needs self service combined with agent technology

In this video Dave Ubachs, European CIO of Staples discusses the opportunities around big data and analytics, how can the CIO can drive value. He outlines why data visualisation and analytics are great opportunities for IT to move up the value chain, and how smart IT people can become data scientists and why are they are uniquely equipped to do so.

In a video interview, consultant Claudia Imhoff discusses the increasing need to augment data warehouses with technologies such as Hadoop and real-time analytics systems.