Download this free guide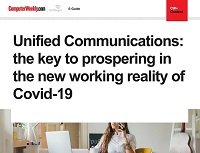 Unified Communications: the key to prospering in the new working reality of Covid-19
The coronavirus is changing everything about how people work, and will do so permanently. It added that even though the working world was experiencing unprecedented uncertainty, there were two things that should be borne in mind: the virus will pass, and at the other side of the pandemic, the world of work will look very different.
In Depth :

Network hardware
As firms get used to a partial return to the workplace, what will this mean for those that have been charged with keeping business networks up and running during lockdown? Continue Reading

It was predicted that the mass roll-out of computer networks would mean at some point that there was no difference between work and home as a working location. These assumptions are about to be tested to the full Continue Reading

5G's development has been driven by a variety of use cases leading to a multi-service capability – a network of networks. But what is the reality of this, and how is it expected to change as we move forward? Continue Reading
Blog Posts :

Network hardware
Almost three out of five CIOs we speak with today tell us that technology providers often seem to be pushing software defined networks (SDN) simply to sell hardware, writes Verizon's Peter Konings, ... Continue Reading

Driven by traffic congestion, pollution levels and rising infrastructure costs, the future of public transport is being technology-enhanced on many levels. Thus major initiatives include: ... Continue Reading
Opinion :

Network hardware
Henry He of Virtual Instruments looks at tail latency, the small percentage of storage I/O that could be causing big and costly problems for business applications Continue Reading

Copper-based local area networks are increasingly unfit for purpose in a digital enterprise, but passive optical LANs may be a solution. Tech evangelist Paul Ryan, European chair of the Association of Passive Optical LAN, explains why Continue Reading

Digital technologies consume way too much energy and present an environmental and sustainability issue that demands a fresh design approach Continue Reading
Videos :

Network hardware
Computer Weekly discusses the issue of BYOD and privacy with MobileIron and law firm Bircham Dyson Bell

Simon Furber, Brunel University, talks to Computer Weekly about best practice in BYOD and gives tips for successful projects.

Steve Trigg, independent BYOD consultant talks to Computer Weekly best practice in BYOD and gives tips for successful projects.