Financial applications
Find news stories, analysis and case studies to help you best leverage financial applications to drive forward business and corporate strategies. Stay abreast of new financial applications developments, and get expert advice on how to evaluate corporate performance management (CPM) software, and manage corporate performance management systems. Learn how to best use software to improve financial management processes such as forecasting, planning and budgeting. And read about how to use financial analytics software to create performance dashboards to aid decision-making.

Download this free guide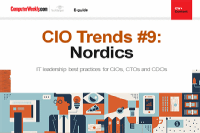 CIO Trends #9: Nordics
Read the story of three banks in Finland that are working together to keep pace with the tech changes in the industry. Also, take a closer look at the cloud first policy at shipping giant Maersk.