Mobile software
Mobile software is one of the fastest-moving areas of IT today, with new low-cost applications - or apps in the mobile parlance - being rapidly created. Businesses are looking at how best to exploit powerful smartphones, such as iPhones and Android devices, and portable computers such as iPads and other tablets, that are now available. We examine the latest mobile software trends and technologies and put them into the context of enterprise IT.

Download this free guide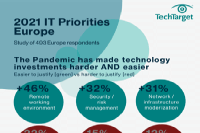 IT Priority Budgets 2021 Infographic
After surveying near 500 European IT sector professionals, the jury is out on what companies across the continent will be spending on in 2021. We dive into what spend will be easier to justify, if budgets for IT companies are on the rise or fall and what the 2021 project rankings are for most in the new year. Download this PDF infographic to find out what the results showed.