Mobile software
Mobile software is one of the fastest-moving areas of IT today, with new low-cost applications - or apps in the mobile parlance - being rapidly created. Businesses are looking at how best to exploit powerful smartphones, such as iPhones and Android devices, and portable computers such as iPads and other tablets, that are now available. We examine the latest mobile software trends and technologies and put them into the context of enterprise IT.

Download this free guide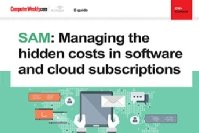 How to effectively manage the hidden costs in your software and cloud subscriptions
Discover how software asset managers are coming up with new ways to give employees freedom and flexibility whilst keeping the ability to easily audit what is being used on-premise and in the cloud as well as what is no longer being used.