Download this free guide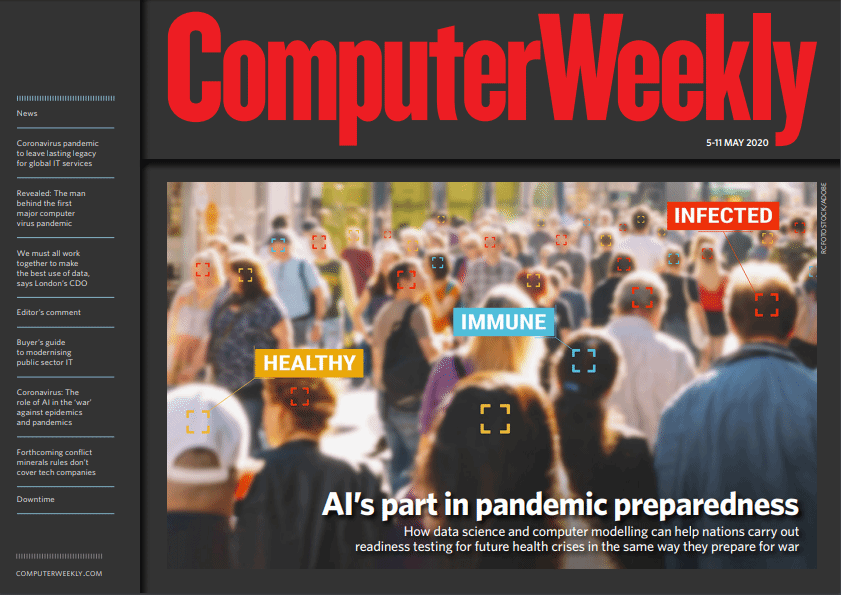 The role of AI in the war against pandemics
We look at how AI and data science are supporting the global push to deal with the coronavirus pandemic. We reveal, and talk to, the man behind the world's first computer virus pandemic, the Love Bug. And we examine how the IT services market will change as a result of the current crisis. Read this CW E-Zine issue now.
In Depth :

Storage
Determining which hyper-converged infrastructure platform is right for your organization should include analyzing your workloads and assessing technology from top HCI vendors. Continue Reading

Many organisations look to the cloud to cut storage budgets, but the potential costs are many and varied. So what are the key ways to cut cloud storage costs? Continue Reading

Computational and storage advances are expanding the role of object storage beyond traditional HPC and cloud to emerging data analytics, machine learning and deep learning use cases. Continue Reading
Blog Posts :

Storage
In the midst of the ongoing Covid-19 coronavirus outbreak, technology vendors all over the world have been touting their wares to help individuals, businesses and medical workers tide over this ... Continue Reading

Veeam has taken the wraps off the latest iteration of its software to speed up backup and recovery, along with other features to help enterprises better manage their data in a hybrid cloud ... Continue Reading

I think we can all agree that protecting data is important – perhaps even very important. So how come some still find it a daunting challenge to progress from that acknowledgement into tangible ... Continue Reading
Opinion :

Storage
FDM's IT chief takes us through the challenges of responding to the coronavirus pandemic, and the future opportunities that the changes introduced now present Continue Reading

Storing time-series data should depend on how the data is used and its age. Discover tips for saving data for comparative analysis, machine learning and other purposes. Continue Reading

Adopting containers promises great organisational efficiency advantages, but the fast-evolving technology can be problematic for security teams. What do CISOs need to know to safeguard containers? Continue Reading
Videos :

Storage
Midverk IT manager Jon Helgason speaks to Computer Weekly's Cliff Saran about recovering from a party that brought down the company's datacentre

Making sense of storage in a big data world

One of the dilemmas of the modern CIO is the ever-expanding need for data storage.