Business intelligence software
Business intelligence (BI) is regularly rated as a top investment priority by CIOs. Smart use of business intelligence software, analytics and datawarehousing make sure that the right information is delivered to the right people, helping them to make better and more timely decisions. In this section, we analyse the latest trends and technologies for successful BI.

Download this free guide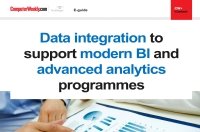 Why advanced analytics and modern business intelligence should be propped up by data integration
In this e-guide, we discuss why data integration and preparation are the unsung heroes of modern BI and advanced analytics. More so than ever, it would seem, due to the ever-increasing volume and variety of data.