Business intelligence software
Business intelligence (BI) is regularly rated as a top investment priority by CIOs. Smart use of business intelligence software, analytics and datawarehousing make sure that the right information is delivered to the right people, helping them to make better and more timely decisions. In this section, we analyse the latest trends and technologies for successful BI.

Download this free guide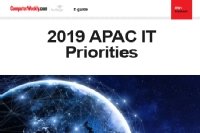 Make 2019 the year of great IT decisions
Before any investment, how about taking a look at your peers' IT priorities for 2019? Download the results of our survey right now to find out in which areas IT decision makers are planning to invest in the nearest future!