Big data analytics
Big data analytics is the often complex process of examining large and varied data sets -- or big data -- to uncover information including hidden patterns, unknown correlations, market trends and customer preferences that can help organizations make informed business decisions.. See complete definition.

Download this free guide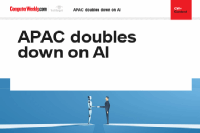 APAC doubles down on AI
After coming to grips with AI ethics, APAC companies are growing their expertise in the global for AI supremacy. Discover in this eguide how and why APAC doubles down on AI.