Big data analytics
Big data analytics is the often complex process of examining big data to uncover information -- such as hidden patterns, correlations, market trends and customer preferences -- that can help organizations make informed business decisions.. See complete definition.

Download this free guide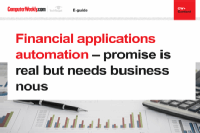 Financial applications automation – promise is real but needs business nous
The automation of the financial software that lies at the heart of any business & accountancy, budget management, general ledger, payroll, and so on & is a prize many organisations are eyeing up, with machine learning and robotic process automation close to mind. Find out everything you need to know by downloading this PDF E-Guide.