Big data analytics
Big data analytics is the often complex process of examining large and varied data sets -- or big data -- to uncover information including hidden patterns, unknown correlations, market trends and customer preferences that can help organizations make informed business decisions.. See complete definition.

Download this free guide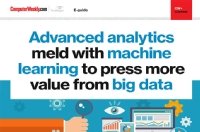 Step 1. Advanced analytics. Step 2. Machine learning. Step 3. Profit.
Join us as we delve into a number of Silicon Valley-based startups that are looking to shake up the data analytics industry as well as glimpsing into the future of AI-based analytics, data visualisation tools and the Australian data analytics market.