Big data analytics
Big data analytics is the often complex process of examining large and varied data sets, or big data, to uncover information -- such as hidden patterns, unknown correlations, market trends and customer preferences -- that can help organizations make informed business decisions.. See complete definition.

Download this free guide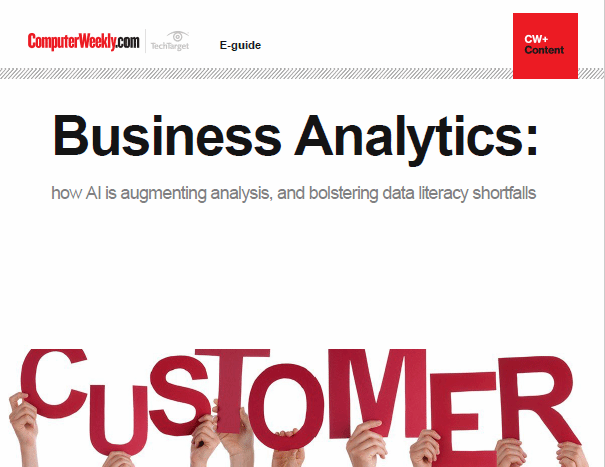 Business Analytics: how AI is augmenting analysis, and bolstering data literacy shortfalls
Artificial Intelligence and human analysis have been coming together in recent years. Whether using packaged BI and data preparation tools, or languages like Python and R, business analysts and data scientists and engineers alike have been exploring the use of machine learning algorithms to augment their data analyses. Read more in this e-guide.
News :

Big data analytics
In Depth :

Big data analytics
In this buyer's guide, we look at the state of adoption of business intelligence and analytics tools, common use cases and other technology and business considerations Continue Reading

We look at five options for file access storage, from 'traditional' NAS in a standalone appliance to distributed hybrid cloud file storage and NAS cloud gateways Continue Reading

Artificial intelligence and machine learning storage is not one-size-fits-all. Analytics work differs, and has varied storage requirements for capacity, latency, throughput and IOPS. We look at key decision points Continue Reading
Blog Posts :

Big data analytics
This is a guest blogpost by Rich Pugh, co-founder and chief data scientist, Mango Solutions The things we do not know about Covid-19 seem almost endless. There are no clear answers yet to some of ... Continue Reading

Data analytics seems to have emerged as a cure-all for the current Conservative government. Indeed, it is being positioned as a critical element in the wider revolution of Whitehall that Dominic ... Continue Reading

This is a guest blogpost by Mark Morley, Director, Strategic Product Marketing, OpenText Disruption to global supply chains, particularly in the manufacturing sector, has taken many different forms ... Continue Reading
Opinion :

Big data analytics
Boris Johnson has quietly transferred control over government data to Number 10, without explaining why. The public deserves more involvement in how their personal data is being used, says Labour Continue Reading

Sharing data by default could turbocharge London's potential for radical improvements across the ecosystem, according to London First's director of connectivity and competitiveness, David Lutton Continue Reading

Caroline Carruthers, CEO of Carruthers and Jackson, cogitates on the balance between gut and data in making personal risk decisions, ahead of a CDO summer school Continue Reading
Videos :

Big data analytics
DBS Bank's managing director & head of consumer banking and big data analytics technology talks up the bank's data analytics initiatives and how it is fostering a data-driven culture

Distributed data lakes with Hadoop clusters and other systems create new data management and governance needs that are hard to meet with existing tools, says IT analyst Mike Ferguson.

Gartner analyst Merv Adrian discusses why organizations often have trouble with deployments of Hadoop-based big data architectures, and how to avoid the challenges they pose.